Heist


Pacific Standard Job

Goals:

Arrive at

the bank

Go inside

(CC) Control the crowd
(MT) Break open the

vault

(MT) Drill the

vault

(MT) Steal the

cash

(CC) Hold off the

cops

Lose

wanted level

Take:
$3,000,000 possible
Unlocked after:
Paleto Job
Unlocks:
N/A
Max players:
2 minimum - 4 maximum
"The heist in Paleto did us good. But, like they say, reach higher. Pacific Standard Vinewood. This bank has lots of security and lots of surveillance. Get it done."
— Gary Mitnick
Pacific Standard Job is the third heist and last in the Heists content update.
Summary
Players are assigned to rob the Pacific Standard Public Deposit Bank and assign roles. Once they arrive, the two teams perform their tasks, take the cash and leave as fast as possible.
Planning
Setups
If players have completed the setup missions Hack, Convoy and/or Bikes they can hack into the network to open the vault, utilize thermal charges, and/or use bikes for the getaway.
Teams
There are two teams for this Heist.
Crowd Control (CC)
and
Money Team (MT)
. Crowd Control will control the hostages to make sure they don't make any dumb moves while Money Team will break into the vault (or hack it) and get the cash.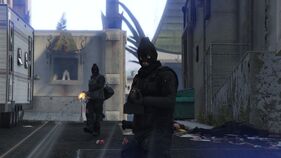 Cuts
The potential take for the heist is $3,000,000. The leader must decide the cut for each player before executing the Heist via the Planning Board.
Heist steps
Arrive at

Pacific Standard Public Deposit Bank

Go inside

(CC) Take out the

security guards

and control the

crowd

(MT) Break into the

staff room

(MT) Break into the

vault room

(MT) Drill the

vault

and steal the

cash

(CC) Hold off the

cops

Lose your

wanted level
All Points Bulletin
All players who participated in the Heist must stay low for 48 in game hours due to the All Points Bulletin that is placed on them.
Tips
Avoid getting shot especially if you're the player carrying the cash. Any time you get shot a bit of the take is lost.
If the setup mission Pacific Standard Job - Bikes has been completed, take care when driving the bikes, and stick together; going alone or a different path without your teammates will prove challenging and will increase the chance of money being lost.
Using the bikes isn't necessary as you can take any vehicle and escape. The Armored Kuruma works best.

This is the only heist where players can dress in Bugstar uniforms.